I've had a really lovely day! I spent this morning working on my Lilypond CAL motif #5 and finished the first square!
I am so ridiculously pleased with how this has turned out! It really does look like a lily pad, and I love how 3D it is…so gorgeous! One down and three to go!
After my crochet stint, I set about preparing food for our family BBQ this afternoon. I've been planning it for a couple of weeks, and it was the first time that both Dave's parents and my own, plus my brother, were together! Owen's girlfriend made it as well, so it was really special.
I went all out on food – peppercorn crusted burgers, maple and bacon sausages, chicken and chorizo kebabs, Jack Daniels BBQ chicken, potato wedges, and some potato and bacon salad – one of my favourite recipes! Dave did us proud with his BBQing skills. It all went really well! And then it started raining. But we sat out under the umbrella, and ate outside anyway. Classic British weather!
It's been a lovely weekend. Yesterday I went out for crepes and waffles with Owen and Emma, at Sprinkles Gelato in Bournemouth.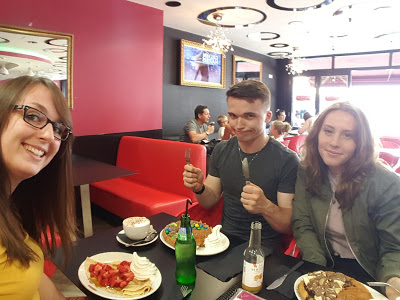 Excuse my brother's face! It was seriously yummy though. I opted for a crepe with maple syrup and strawberries, with vanilla ice cream! Emma had a cookie waffle with ice cream, and Owen went for an M&M waffle! So many calories have been consumed this weekend, but it's been a really special one! Back on the healthy eating as of tomorrow. I wouldn't change the last two days for the world though! I hope you've all have a good one. I'm now going to sit and start another #5 motif!