I have finished my blanket! I'm actually a few days late in posting, but I have had a few things come up that have distracted me since finishing on Saturday morning. So the wait is over, and here is my finished Lilypond!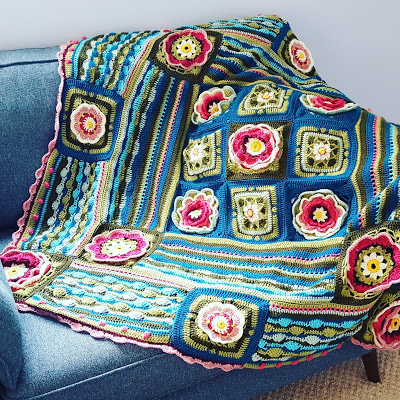 It matches my sofa, beautifully!
I'm so pleased with the finished outcome! The colours are amazing, the 3D element is gorgeous, and I am super proud of myself for getting it finished in time for Pat's birthday! It was tight though! I only finished weaving in the ends on Saturday morning, and gave it to her in the afternoon!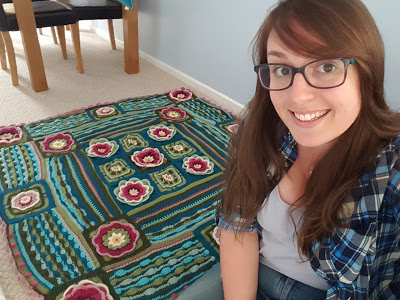 A rough idea of the size!
Despite my cup-of-tea disaster a few weeks ago, everything has turned out fine. The only parts I am unhappy with are the joins to the inside corner pieces – the corner blocks worked up a lot smaller than intended and it warped the blanket during joining. In hindsight, it would've been beneficial to add an extra round or so to the corner blocks, but I simply didn't have the time. I don't think it's overly noticeable though – I'm just being picky! Another very minor issue is the fact that I didn't add the final cream round to the edging. I did start it but I couldn't get it to look right (for some reason it just straightened the edge, rather than working to the ripple) so I decided to just leave it as it was. I do still think it looks pretty with just the pink rippled edge, so that's fine.
Would I do another CAL? Well, technically I didn't do this to time, so I am still a real-time CAL virgin, but it has definitely made me more interested in having a go. I'm definitely going to have a go at another Jane Crowfoot pattern (I really like her Persian Tiles blanket) in the future – they are all so unusual and different to anything else!
So there you have it – it took me 9 months, though I did take 3 months off because I was reading a couple of really good books. So technically only 6 months to complete. I don't think that's bad! I am now focusing on reading, to keep up with my Goodreads 2016 Reading Challenge, and am intending to start a couple of small new crochet projects in the next week or so.
If you want to have a go at making your own Lilypond blanket, you can find the pattern here on Ravelry! You can buy yarn packs on Wool Warehouse, which is where I purchased mine – they also have the alternative colourway "Cherry Blossom" available to buy on there. Happy stitching!