I've finally found a second to share my finished baby cardigan with you all! I made this using the Jasmine's Sweater pattern by Maria Bittner.
Front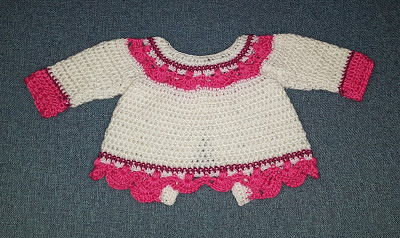 Back
I'm super happy with the outcome! This was a request of my colleague Jackie, for her Granddaughter. She basically let me do what I wanted with it – I sent her a few patterns to choose from, and then Jackie allowed me to choose the colours and yarn. I used Caron Simply Soft in white, fuchsia and watermelon – it's a lovely yarn to work with, and as a first timer using it, I was impressed and will definitely use it again in the future!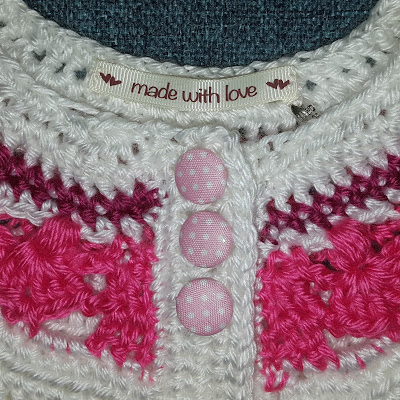 Buttons and tags
I tried to make the finished item a bit more personal by adding a "made with love" tag, and a little "handmade" charm (which you can just see the top of, bottom right of the tag). I thought long and hard about what kind of buttons to use on this. After standing and comparing buttons for about 15mins in Hobbycraft, I finally went for these cute fabric covered polkadot ones, which I think was a good choice. I particularly like the fact that they add another shade of pink to the colour palette.
Overall, I really enjoyed making this for Jackie. It was my first time making proper shaped clothing (I am still yet to assemble the cardigan that I am making for Kirsty) so it was a little nerve wracking, but I feel that I pulled it off. Jackie loved it, and that's ultimately what matters!
I still have a few projects lined up to finish before Christmas (eek). Next up is another cat, and then a pair of baby booties…plus, if I have time, a banana for Ruben. I have already been asked to make a jumper for my practice manager's puppy, in the New Year – a lot of my colleagues are really embracing my crochet, and one of the doctors has even asked if I would be able to teach her! Spreading the word!