After months and months of preparation, yesterday was the day of Kirsty's hen party! Right from the start of planning, Kat (a bridesmaid and amazing helper) and I wanted to make it really special. We came up with lists of things that Kirsty enjoys, and eventually settled on a Mad Hatter's Tea Party (she loves Disney and afternoon tea) and a crafting session (she loves to cross stitch).
I arrived at our venue, Holton Lee, really early to start setting up. Faith House doesn't need much doing to it, and there are stunning views out across the fields and Poole Harbour – we were super lucky to have amazing weather as well!
Party bags!
I came loaded with decorations and the party bags I have been assembling over the last few months. I wanted to go for a balance between tacky stuff you'd receive in a kids party bag, and grown up. I think the balance worked out ok!
I purchased the bags from The Favour Factory, after lots of searching! I love the customised labels! Each party bag then contained sweets (love hearts, lollies, Haribo etc), customised "Kirsty's Hen Party" chocolates, miniature wands and tiaras, bubbles, wish bracelets, balloons, and straws. Kirsty's had a large tiara and wand (pictured), a "grow your own male stripper" and a "bride to be" sash. I am really pleased with how these turned out!
On the decorations front, I had a load of paper bunting, giant Alice in Wonderland card props, honeycomb baubles, a "bride to be" banner, and a ton of balloons. Once Kat arrived, she brought more bits and bobs, and we got the venue looking pretty good inside and out.
Our Mad Hatters Tea Party took a lot of work – I baked some (rubbish) biscuits, Kat bought lots and we had some amazing baking help from Kirsty's mother-in-law-to-be Ilse. We set up the tea in the room adjoining our crafting room (I'll share pics of that later!).
For our jewellery making session, we had a lady named Cara from Crafts & Giggles come to us. All of the supplies are included and we got to make a few different items! Kirsty made earrings to match her dress, which looked fab. We all got a little bag and box to put our finished jewellery into as well, so people got to go home with 2 party bags in the end!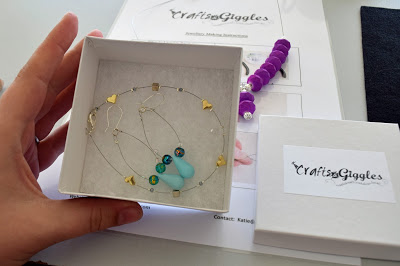 My finished earrings and bracelet
After our crafting session, we moved on to our tea party. The room looked awesome. It's usually used as a quiet room for kids with autism and is totally decked out in silver birch trunks – it's really unusual! The second Kat and I saw it when we visited the venue, we knew we needed to use it for the food.
Kat and her friend supplied all of the crockery and cake stands (except the tall one, which was card and bought online), along with the table cloths and champagne flutes.
The overall effect looked so good, and it definitely had a wow factor as you entered the room. The cakes were all absolutely delicious as well (Ilse did us proud).
After our tea, we cracked out some hen party games – lots of rudeness and silly things! I'm not 100% on my reading audience here so I'll refrain from pictures, but rest assured we had a really good laugh – willy hoopla was my personal favourite! We got to lounge outside in the sun a bit as well, so that's always a bonus.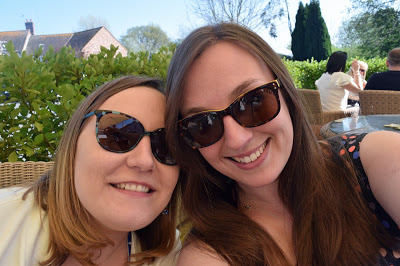 My beautiful best friend and I
Next up was a trip to the pub for refreshments! A few of us went for some drinks, before disbanding for a little while and meeting up again for a much needed curry at Taj in Corfe Mullen! Indian food is always a winner in my books, and the food was absolutely fantastic. Only Kirsty was actually drinking as the rest of us had to drive, but the staff supplied us with two bottles of wine and some shots to end the night with – it was a lovely gesture!
All in all it has been a thoroughly exhausting, but very rewarding process. I've put countless hours into the planning of it, and everything ran pretty smoothly! I think everyone had a good time – Kirsty says she did, so that's all that really matters to me really. So now we begin the countdown to her big day on the 13th May! Only a few weeks to go before she becomes Mrs Kelly! So exciting!