So I have wanted to swim for years and years. I can swim, but lack confidence both in the actual swimming department, as well as the self esteem one. After having to force myself to buy a swimsuit recently, I decided to start swimming in my local pool and was really proud of myself for doing 10 lengths for my first attempt (bearing in mind that I hadn't swum in almost 10years!). Since then I have progressed really well and have even made myself a little chart to prove it!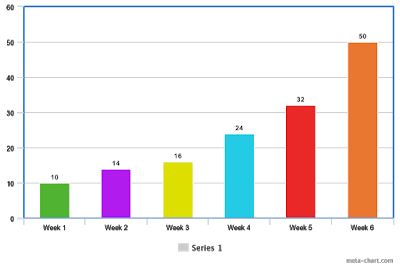 If there's a chart, it must be impressive, right?
So in week 1 I managed 10 lengths. This included a long stop between each one (which is so bad, I know) but I was pleased with my first attempt. In week 2 I boosted that up to 14 lengths, and then 16 in week 3. In my fourth week I started to find my confidence a bit more, and completed 24 lengths – I also found that I could start doing more in one go, without stopping. Last week I managed to hit the half mile mark, with 32 lengths, and today I made myself proud with a total of 50! I have my eyes set on the mile for next weekend…
I'm really enjoying myself, and it feels great passing my previous score each week. I know that won't always happen (to be honest, I nearly gave up at 20 today as I just couldn't find my rhythm) but if I can continued progressing as I have been, I will be really happy. I feel good about it too – both in a confidence and a health sense. Ok, I still hate how I look but I have managed to get over a massive hurdle in getting myself to the pool in the first place, so if nothing else that's a decent achievement.
My next target is a mile, like I said. That isn't non-stop but swimming a mile is good either way right? I also really need to improve my technique because I honestly am an awful swimmer. I can do it, but it's not the best (and never has been to be honest).
On a completely unrelated note, but appropriate to my blog – I have spent this afternoon sewing more flowers onto my bunting and it's starting to look really good now! Hopefully I can get it sorted by the end of the week, then thread together strand two, decorate that, and finally work out how I'm attaching the bumblebees. Time for bed now though!