Today has been a good start to a new month!

Here's an up-to-date status on my reading project! I have now reached 12/18 books for 2017, so am only 1 book behind schedule at the moment. With our 2 weeks honeymoon approaching, I am hoping to get in some serious reading time (when we aren't out and about, obviously). Just the chance to relax will be so welcome, to be honest. I am desperate for a proper break now! Anyway, book number 13 has been started – gone back to a favourite author of mine; Paul Finch. He released a new "Heck" book in April, which I haven't gotten around to reading yet, so have made a start on that. Fab so far! Taking my Kindle with me to Kenya, and there are about 50 books currently sat waiting on there, so I won't be short of reading material while we are away!
On a crochet front, I have ordered the yarn for my spare bedroom blanket! That will arrive this week! I am about to order the yarn for Nurse Adrienne's teddies (which I promised her ages ago), so I will have two projects on the go at once. Unusual for me, but I will find it hard to concentrate on the amigurumi at work – NHS staff rooms are not the place to try and count rounds haha! So my blanket will be the project I take into work, and the teddies will stay at home. I'm excited to get started on both of those though.
I finished Sam's rooster this evening! But I can't share any pictures with you yet. I want her to be the first to see him, so I will post him this week and write a little bit about him once he has met his new mummy! I'm super pleased with him though, he looks fab.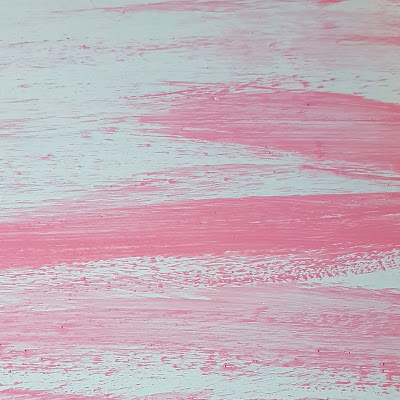 I started painting the bedroom furniture today! This is just a WIP shot, but those are two of the colours I have gone with. The duck egg blue is divine! Dusty pink, it's pretty and will look nice once sanded back I think. The first bedside table is drying at the moment and I will sand and wax it during the week, or next weekend. Hopefully it turns out well though! Dave isn't too keen on the idea of the upcycled look, so fingers crossed I can prove him wrong and create something really special (no pressure then!).
Back to work tomorrow, after what has been a pretty good weekend. Had my last flu clinic yesterday morning, then went into Poole with Dave for some lunch and last minute Kenya shopping. Got home and made a delicious beef and ale casserole – my first attempt at making something like this, and it went really well! Yay! Today was a mixture of swimming, painting and chilling…mostly painting. Watched a film this evening while I finished Sam's rooster and will be off to bed in a little while, methinks. Maybe a cup of tea first. Then in the morning I am going on an ECG training course, followed by work. Can't wait for our holiday now!