Sorry for not being around lately! I have been so busy at work, and had loads going on in my spare time too. I wanted to share this project a while ago, but I couldn't until I had given it to the person I made it for! And then time ran away with me!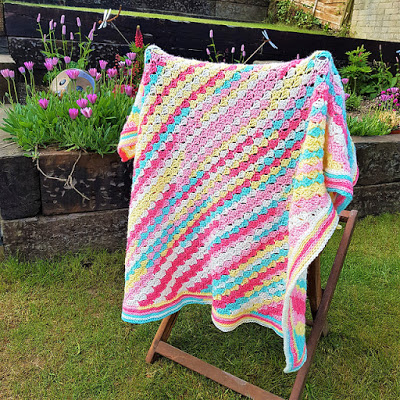 I have always loved the look of Corner2Corner blankets, and as one of the nurses at work was about to have a baby, I thought I'd give it a go and make one for her. I never realised how addictive it would be! I used the
Spring Into Summer Blanket
pattern by Susan Carlson, which was really well written and had a nice style of border on it, with some Lion Brand Ice Cream Big Scoop yarn, in Tutti Frutti. Sian (the nurse this was for) doesn't know what gender her baby is, so I thought this yarn covered all bases (though it was a
little
more pink than I'd have liked). I'm thrilled with how it came out though – the yarn is so fun and the colours are lovely and bright. I love anything with a gradient! But the main thing is that Sian really liked it.
I was shocked at how quick this blanket was to make! It was only a week from start to finish and looks really impressive. I'm eager to make another c2c in some different colours and see how they work out!