I would like to introduce you all to Poppy; my latest finished project! I started Poppy back in about April, but because of work and social commitments, I haven't had the time to work on her solidly and get her finished…much to my frustration.
Poppy was requested by my neighbour, who saw another version of this pattern that I had made; Fleur. She fell in love with it, and said that she would love for me to make a version for her friend's daughter, Poppy. I really loved making Fleur, and Dawn's patterns are such a joy to work with, so I was looking forward to working on this one! So glad it's finished though; does anyone else get those really stale periods where they can't focus on anything? Nightmare!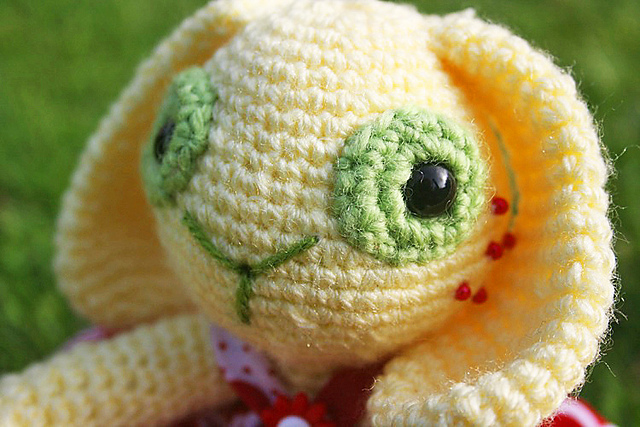 Poppy is yellow in colour, with big green eyes and red shoes. She has a handmade red dress, with a button embellishment on the front. She also has cute red freckles on her cheeks.
I'm pleased with how she turned out. I must admit, it's not been my favourite piece to work on, because it's taken me so long, but I'm so glad she's finished and looks as pretty as she does! I really hope her new owner enjoys her, and appreciates her as much as I do.
Huge thankful shout out to Dawn Toussaint, for her beautiful patterns by the way. You are a complete genius; I'm in awe!