Those who follow me on Facebook, will know that I have finished my massive blanket project! Yay!! I will write about it in the very near future, once I have been able to get some decent photographs of it in it's entirety (there is a lot of blanket to fit into one photo), so keep your eyes peeled for that. On a different note, I am able to show you my brand spanking new project. It's in it's very early stages, but I can tell you all that I am making a Christmas wreath!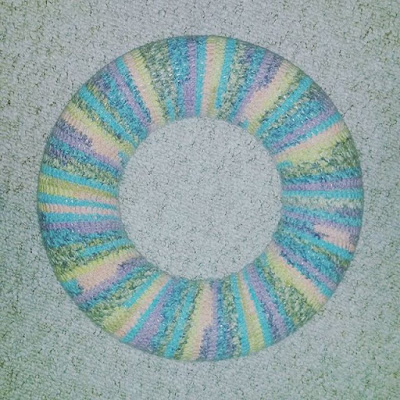 Inspired by the beautiful wreath by Lucy at Attic24, I decided to throw together a project of my own in time for Christmas (I hope!) – you can find Lucy's original post here and can find links to all the crocheted pieces on her wreath, through that entry.
As you can see, so far I have only made the cover for my wreath. I opted for Sirdar Crofter DK yarn, in #81 Constance. I was originally only going to go for block colours, like Lucy's, but once I saw this in the shops I had to have it. I'll admit, I had my doubts while I was crocheting the cover but I love how it looks nice it's on the polystyrene ring. I have bought a few pretties to decorate it with, and will pick up some more bits and bobs over the next few days/weeks…whenever I see something that I like. I'm going to try and opt for colours to match the yarn, and natural woods, so at the moment I have a collection of beads, ribbon, cut out shapes, bells, and purchased some really cute gingerbread men today (I'll take some photos and share those with you before I stitch it all on).
Anyway, I am off to bed – I keep telling myself to have an early night and then get distracted. I'll try my best to get Dave's blanket photographed over the weekend, so I can share that with you. Night all! xx