Happy New Year everyone! And what better way to welcome in January, and the year of 2016, than by finishing my Christmas wreath. Yes, after Christmas haha!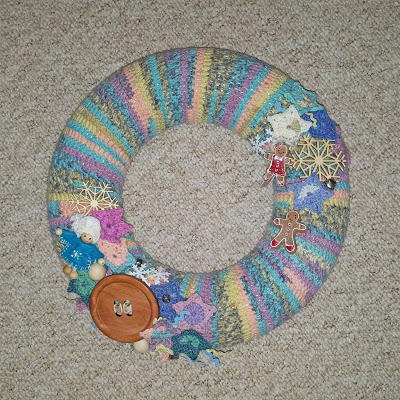 I started this project on the 19th October, which gave me loads of time to get it finished before Christmas. But me being me, it didn't get completed until today, due to spending time wrapping presents, reading, and on my latest obsession – colouring! I'm not too bothered though, and it can have it's debut for next Christmas!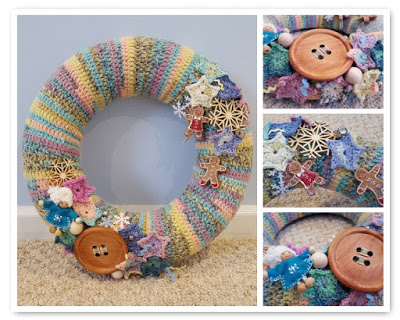 Details!
I made my wreath using the Christmas Wreath pattern by Lucy of Attic24. Her finished wreath is ridiculously pretty and super colourful! I went for a slightly more toned down version but still love it. All of the yarn is Sirdar Crofter DK, in various colours, and I made the stars using Lucy's Teeny Tiny Stars pattern! Everything else has been purchased or gifted! Included on my wreath are:
Wooden snowflakes (Hobbycraft)
Jinglebells (Hobbycraft)
Wooden beads (Hobbycraft)
Ricrac ribbon in yellow and blue (Hobbycraft)
Snowflake ribbon (Hobbycraft)
Gold ribbon (Hobbycraft)
Giant button (free gift with Simply Crochet Magazine)
Gingerbread men (Poundbury Garden Centre)
Clothes peg lady (handmade by my very clever Mum!)
Crocheted stars by yours truly
I bought enough stuff and made enough stars to cover the whole wreath, but as I was pinning it all on, I decided I quite liked being able to see the gradient of the yarn on the body, so opted to add two clusters of embellishments, instead of covering all over like Lucy did in her original pattern.
I'm really pleased with the outcome! And glad that I have finally finished it – it can now go in the loft with the rest of the Christmas decorations, until next year haha! I'm now excited to get started on my projects for the new year! There are so many things that I want to make (surprise surprise) so let's see if I can actually get a big pile finished by the end of 2016!
I hope you all had a fantastic Christmas – sorry I have been quieter recently, and haven't been uploading my This Week collages. The last few of those will be uploaded in a little while! I will definitely be posting more and being much more active now that the chaos of Christmas has finished. Love and hugs all around!