I've had a really difficult week – came down with a nasty case of flu on Friday and have been suffering ever since. I don't think I've ever felt so ill in my life, and there was literally nothing I could do about it either.
So, I've been off work, and although I haven't felt up to much, I have managed to do a little crochet here and there. I've finished all four "3" motifs, and have moved onto the number "4", which is another rectangular block.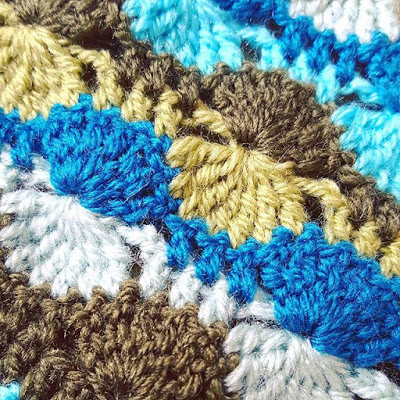 Only a snapshot because I haven't finished this block yet, but it gives you a good idea of the colours and wavy rippled textures. This section symbolises some of the water in the lily pond, and I absolutely love the texture. It also works up really quickly, which is good. I can't wait to see everything blocked and put together. I then unfortunately can't show Dave's Mum until her birthday in September (which is going to kill me), but I started early knowing what I am like with crochet timekeeping! I've hit the halfway mark at a strong pace so let's hope it continues with the rest of the blocks.