Since putting together my first 5m at the weekend, I have regressed back to making bunting flags again and have put in a little yarn order to top up my supply of certain colours! It's going well and I have already created enough of the yellow/orange large flags to finish my first bunting garland and also for my second. I just have the small ones to do, and yellow/orange shall be finished! That's a little way off yet though. Have now started on my lemon/lime flags, and have made a couple today so that's heading in the right direction! I do absolutely love the pattern and how quickly each piece seems to come together. It's also a really nice, easy size for me to take to work and do on my lunch break – even just half an hour of stitching is better than nothing at all!
My second bag of pearl buttons has arrived (these are a slightly larger size) so I should be able to start attaching flowers to garland #1 now. To be honest though, I may just make sure I have all of the flags finished and joined in, before I start messing about attaching the flowers. I have already come up with the plan of having a movie day with my friend Sarah, sitting at opposite ends of the sofa, and working our way through a movie marathon whilst attaching flowers, working our way inwards haha! It works in theory…! Anyway, the flowers are all made, so I can start on that whenever I like.
Exciting news! Today I posted off some of our wedding invitations!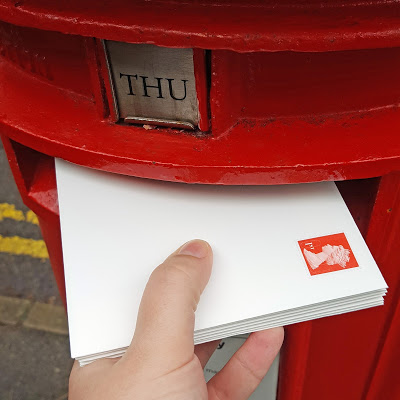 I am going to put the others in envelopes over the weekend, but it's a good start! Planning is getting there, and we don't have too much left to do…I am surprisingly relaxed as well. On a (sort of) wedding themed note; Kirsty's hen do is in a couple of weeks and that has taken lots of planning – looking forward to it! And a hen do means an imminent wedding! Much excitement!