It's been a mad couple of weeks – I have had so much going on, be it work or wedding planning, that I haven't had much time to spend on here keeping you all up to date with things!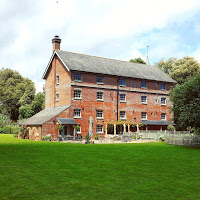 Dave and I went over to our beautiful wedding venue, Sopley Mill, on Sunday to do some planning. I took the first strand of my bunting along to see how it looked on the bridge, and we generally did some measuring up, wandering around, and chatted about arrangements. It was lovely to go back, and on such a beautiful day as well – exactly how I would like August to be, with a little less wind please!
It was amazing to see my bunting on the bridge. After all the hard work I have put into it so far, it was fantastic to see how it will look on the day (I still need to attach the bees but the rest is as it will be) and the length was absolutely spot on! Dead proud of myself! I just need to finish the embellishments on the second strand now, and then I will crack on with sewing the bees on.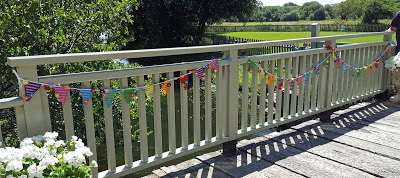 Plans for everything else are coming together. I had my first dress fitting yesterday evening, and went and had my first lot of jabs for our honeymoon this morning, so got the ball rolling there (have I mentioned that we are going to Kenya?). There are now just under two months until the big day, and I'm getting really excited. I had a delivery arrive last week, which will be part of our table plan – it will all look amazing on the day, I'm sure of it!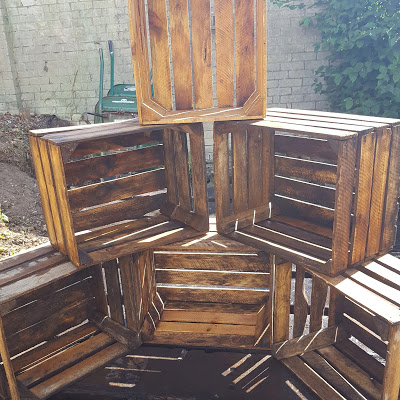 Did someone order some apple crates?
Trust me, it will look fantastic once I'm finished with them!
Other news! I managed to swim my mile on Sunday! So proud of myself. It took a couple of weeks longer than planned, but I am so pleased that I finally managed it. I felt wiped out for the rest of the day, but it's a massive achievement and something that I never actually thought I'd be capable of. I just need to maintain it now.
A quick reading update – I am 7 books into my target of 18, which is good. I'm only 1 book behind at the moment, and started a new one yesterday, which I am flying through. I seem to be on target to complete the Goodreads Reading Challenge again this year – you can keep up to date with my challenge here.
Not much else to report; it's only a quick post anyway as I am soooo into my newest book and don't want to lose my thread, but just wanted to pop by, say hello and let you all know that I'm still here, just really preoccupied with wedding stuff at the moment. I am pretty active on Facebook, so please keep an eye out for me on there (a link is on the left) and I will keep posting on here as often as I get a chance to. Love to you all xx