I have just finished the first strand of my bee bunting! I finished making it ages ago but only just got round to attached the bees! It looks great!
I managed to string it up across two chairs to get a half decent picture – what do you think? I'm really chuffed with the finished product! It will really brighten up the bridge at the mill as well.
I have decided to add the bees to every other small flag, and I think it works nicely. Because each strand is about 7m long, I thought it would look too busy otherwise. My Mum has made all of the bees by the way!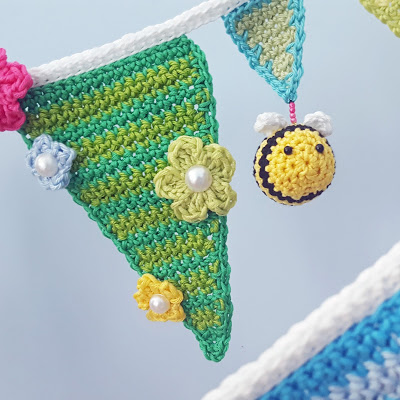 I have attached each bee with some thread and beads – a mixture of pink and iridescent, which gives them a little bit of sparkle! I can't wait to see it in situe now that the bees are joined in.
Next job? Start sewing them onto the second strand! It shouldn't take too long. Dave is away this weekend on his stag do, so I have the house to myself. I'm just going to stick some movies on and get stitching! Wish me luck!
For anyone wanting to try this pattern out for themselves, you can find it here on Ravelry – big shout out to the talented The Hat And I for their amazing pattern writing!