I'm back to work tomorrow, after a really lovely week off. I feel like I have achieved a lot!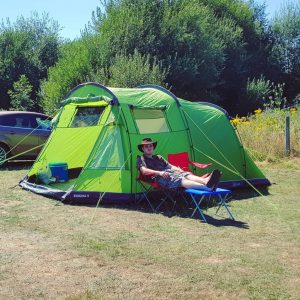 Home away from home!
We started out with a little time away camping – we opted to visit Kent, an area where I spent every summer as a child, and Dave had never been (other than the standard school trip to Dover to catch the ferry to France!). We stayed from Sunday to Wednesday on Far Acre Farm in our little tent and had a fab time visiting Leeds Castle and Dover Castle! The weather was super hot…almost too hot, and we both tanned up nicely!
Since getting home, I smashed through the housework and then got some serious me time, which I so badly needed! I have finished 2 books this week, meaning I am now through 10/16 of my Goodreads Challenge, and in a really good position to finish it this year! I have read 3,512 pages since the start of the year, so my page count is looking good as well.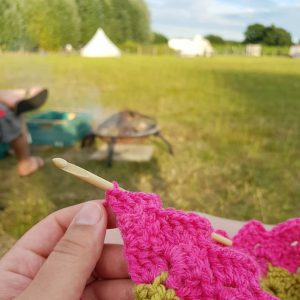 Camping and crochet
I also managed to start and finish another baby blanket this week! Just a quickie holiday project, but one that I can add to my Etsy shop once my new labels arrive (exciting times!). Just need to give it a wash and block, and it's good to go! It was my first time using Caron Cakes yarn, and I found it a joy – the colours worked up really nicely (which I will show you when it's blocked and looking prettier).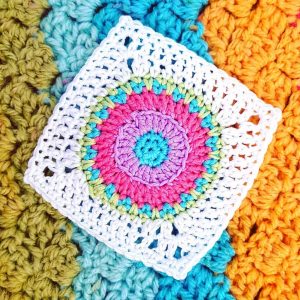 Sunny Sunday Square
Also on the crochet topic, I released my first paid pattern this week! If you missed the updates on Facebook and Instagram, where have you been? You can find the pattern available to buy here on Etsy – it is also listed on Ravelry if you prefer to use that to purchase patterns! I'm really pleased with how it turned out, and I have already had a couple of sales, which is really promising. It's been good for the self esteem, if nothing else. Definitely more to come though, and I have some exciting ideas lined up to continue with!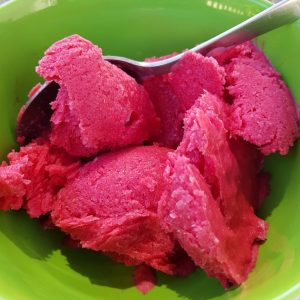 Raspberry frozen yoghurt!
Next up, I spent some time with my best friend! We haven't had a day out in ages, so when Kirsty asked if I wanted to go fruit picking, I couldn't resist. I remember spending hours in fields as a child at various Pick Your Own locations, so it was a definite yes! We chose to visit Sopley Farm (which is in the same village as I got married in!) and it was fab. I opted for raspberries, and have turned them into some delicious frozen yoghurt. It's not something I have made before, so I was pleased with the outcome (considering I don't own an ice cream maker). I also got to spend some quality time with Kirsty, so that's what really counts!
In addition to every thing else, there have been BBQs galore, I've been able to spend lots of time with Dave, journalled, worked on another crochet project (taxidermy elephant for a friend!), watched films, listened to music, and recharged. It's been a really awesome week…and I only have a couple more to go until another little chunk of time off. Yay!