I follow lots of lovely crocheters on Instagram, and when I see that one of them has released a pattern, I try my best to buy it and support their work. So when I came across the Confetti Waves Blanket by Jellybean_Junction, I just had to have a go! I made a start last night and am already making excellent progress!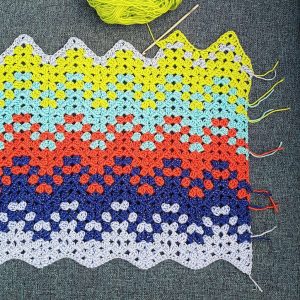 At the moment, I am really trying to reduce my yarn stash (which has grown considerably over the last few years) and this project is PERFECT for it! Pictured are yarns I purchased a couple of years ago to make my African flower dinosaur, and my jellyfish. They've just been sat since then, almost complete balls. Such a waste! So when I downloaded this pattern, I promised myself I would use yarn that I already had. I'm loving how it's turning out so far, and it works up so quickly!
I'm hoping I can have this finished over the next couple of days, then I have to return to working on my taxidermy elephant (I was getting bored with the sections on the back so needed the change). I can't wait to see this project finished though! If you want to make your own Confetti Waves Blanket, you can purchase the pattern here on Etsy.