Do you guys remember the Christmas wreath that I finished back on January 1st? Well, the time has finally arrived to see it up on display in our house! I've only had to wait 12 months for this (my own fault for slacking and finishing it late). Drumroll please!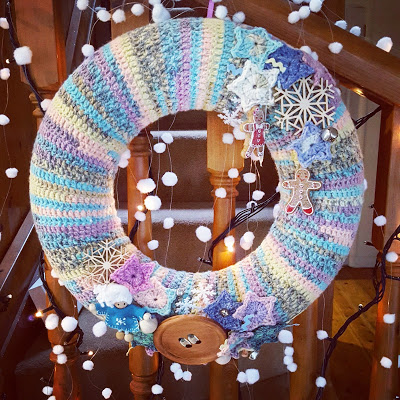 It now takes pride of place in our bannisters, and is the first thing you see when you enter the house! I've decorated the front bannisters with fairy lights and snow like I do every year, so that makes it look even cuter! I even took a video…
I'm so pleased with how it looks now that it's hung up. I'd love to make some more, maybe as gifts next year but we'll see how it goes (my to-do list is still enormous).
I also put up our Christmas tree yesterday, but didn't get a chance to take any pictures as I had to crack on with gift wrapping. I'll try and take some later though! Saying that, it's the same as it has been in previous years, in turquoise and white.
Jobs for today – go and buy Dad's birthday present, exchange a tshirt, and then try and get over this horrid virus that I've caught at work. Have a lovely Sunday, everyone!