Since the wedding, I have been feeling a little blue – just posting wedding blues, where I was planning constantly for 8 months and then suddenly it's over! Honeymoon in a couple of weeks, but that was all planned. So I have taken it upon myself to decorate our downstairs spare bedroom!
This is the kind of colour scheme I am going with. The walls are already a cream colour, so I'm not touching those (just touching up a few scuffs) but I want to accent the room with these nice floral tones. It will only need a few accessories to look really pretty!
Our lovely friends Rich and Sarah have gifted us their old bed and bedside cabinets, which I am going to upcycle! I've bought some chalk paint and am intending to distress them, with hints of pink and duck egg underneath white. I'm hoping it looks nice, and if it doesn't I figure I'll just paint over it again! The paint arrived yesterday, so I might get a chance to try it out on a cabinet this weekend…if not, next weekend when I don't have a flu clinic getting in the way.
I have decided I want to make a couple of special blankets to keep in there (I never make anything for me). I've had the Summer Mosaic Afghan (by Julie Yeager) on my Ravelry queue for ages, so have decided to make one of those to start with! I had loads of fun setting up a suitable colour palette the other night and have decided to go with this…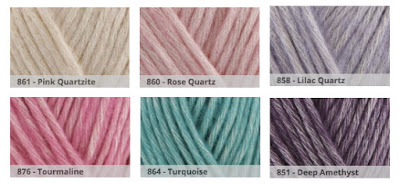 I'm going with Scheepjes Stone Washed XL, as recommended by the pattern. I've wanted to work with this yarn for ages, as I love the colours. I think it'll work really well in the room too! I can't wait to get started…just need to buy the yarn!