My second unicorn went to her new home yesterday!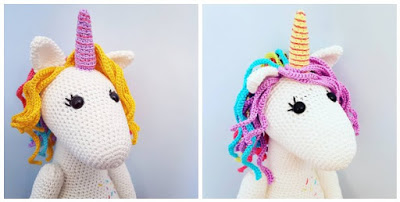 Number one and two!
I made the second one a lot quicker than the first, and I'm pleased with how she turned out! I went for some slightly different colours (I thought a bit of neon green would work nicely) and think shes really cute.
I used the Sweet Unicorn pattern again, and this little lady is for another of my colleague Julie's granddaughters. I hope she likes it! It also means I will have some more money to donate to Julia's House Childrens Hospice!
Next on the hook (from an amigurumi point of view) is going to be a taxidermy elephant head for my friend Liz! It's a pattern that featured in Simply Crochet a few months ago, and I'm excited to give it a try!