Hi everyone!
Thought I'd come and give you all a little update on life.
I had my Christmas Fayre on the 30th November and it was good fun. I met lots of people, some from previous events and lots of newbies too, and did really well from a sales perspective. I feel like I have learnt a lot since last year's fayre, so my stall looked a lot more 3D and professional this year (in my opinion). I was pleased with how it turned out.
My best sellers of the day were the elves – I sold out! The snowmen did well too, which surprised me. I had a fab time though and would like to thank my amazing friend Fiona for all of her help (again).
Another awesome thing that has happened recently is my collab with my lovely Insta-friend @thehappychappo! This fantastic human has really helped me with my selling confidence since I opened my Folksy store earlier in the year, and the advice and support shared has been invaluable!
During the summer I got a message from Steven, asking if I would like to be a part of the "chapvent" he was going to host for the month of December. Of course, I said yes and we chose his rather funky crab for me to crochet. The outcome is really one of my favourite things ever!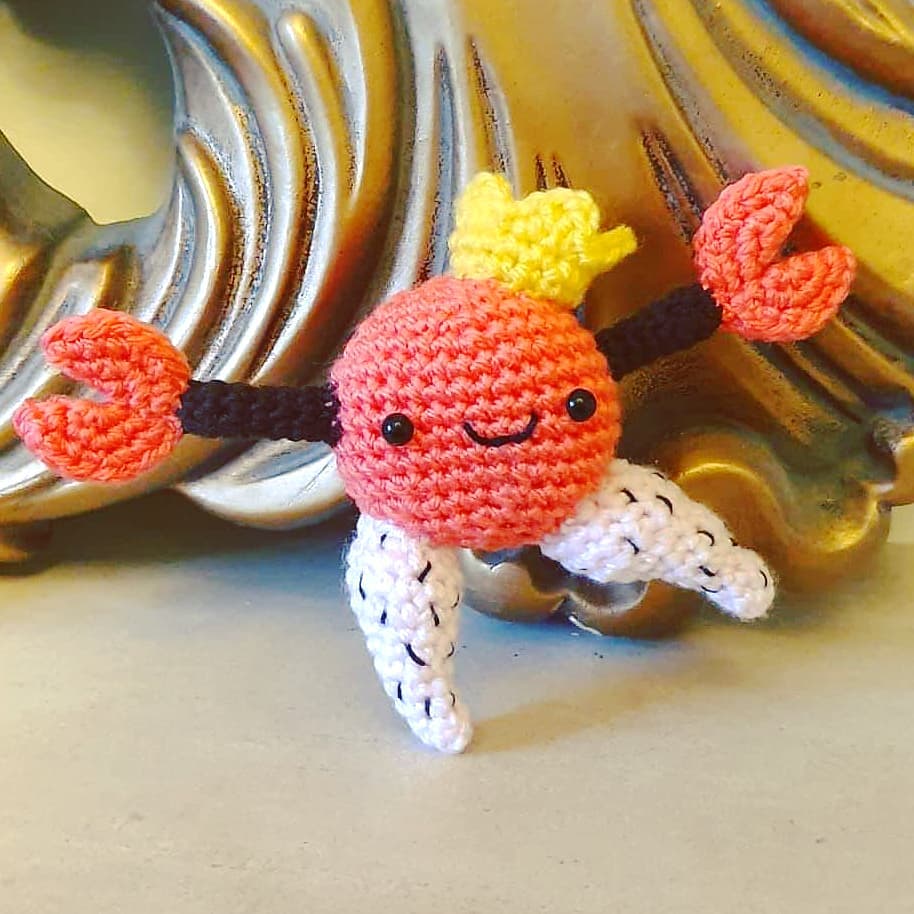 I just adore his little hairy legs! The only thing I'm miffed about is the fact that I couldn't work out how to crochet some appropriate little shoes/boots for him. I think he looks super cute without though, so that's fine with me! It was so nice to design and create something unique and from scratch though. I really enjoyed the whole process and it's given me a little bit more confidence in my abilities as well, so that's an added bonus.
I have also just finished a request for some "Small Potatoes" – apparently it is a children's tv show. I have watched the intro on Youtube and it looks totally adorable, but I'll openly admit that I had never heard of it prior to this request coming through. Anyway here's how I did…
I'm happy with the outcome. I absolutely love the fattest one…the expression just makes me smile! Hopefully the new owners will love them too and enjoy playing with them!
On a Christmassy note, our decorations are up! I will save all of that festive fun for another post though, as I am beyond exhausted and definitely need my bed for the evening. Hoping to become a lot more active online now that my fayre is out of the way, and I can focus on something other than Christmas makes again for a bit!