Wooooah where did those last couple of months go eh!
Basically work has been mental, and I've also been ploughing every spare second of each day into making things for my Christmas fayre (which is on the 30th November if anyone local to Bournemouth is free!). I've sat down to write on here a couple of times but kept getting distracted. I have had a couple of days off this week though, which means my brain is refreshed (sort of) and ready to write.
I have been a festive production line since about July. You'll have seen in previous entries that I have made a Santa, some bunting and simplistic Christmas trees. It's all turned even more festive since then!
Let's start with these little guys, who have been quite a hit over on my Instagram page! The pattern comes from the super talented Moji Moji Design (I have another pattern of theirs to share in a sec) and works up so cute! I love how each little elf has it's own personality, and all the different colour combos work really well together. I like how they look as a group but I'm intending to sell them individually in an elf on the shelf kind of way.
This is also by Moji Moji Design – Christmas pudding people! I have only made a few of these, compared to the hoard of elves, but I think they are adorable. I added some sequins to the bodies of mine to look like fruit and also give them a little bit of sparkle. I can't decide which hat I like best – what do you think?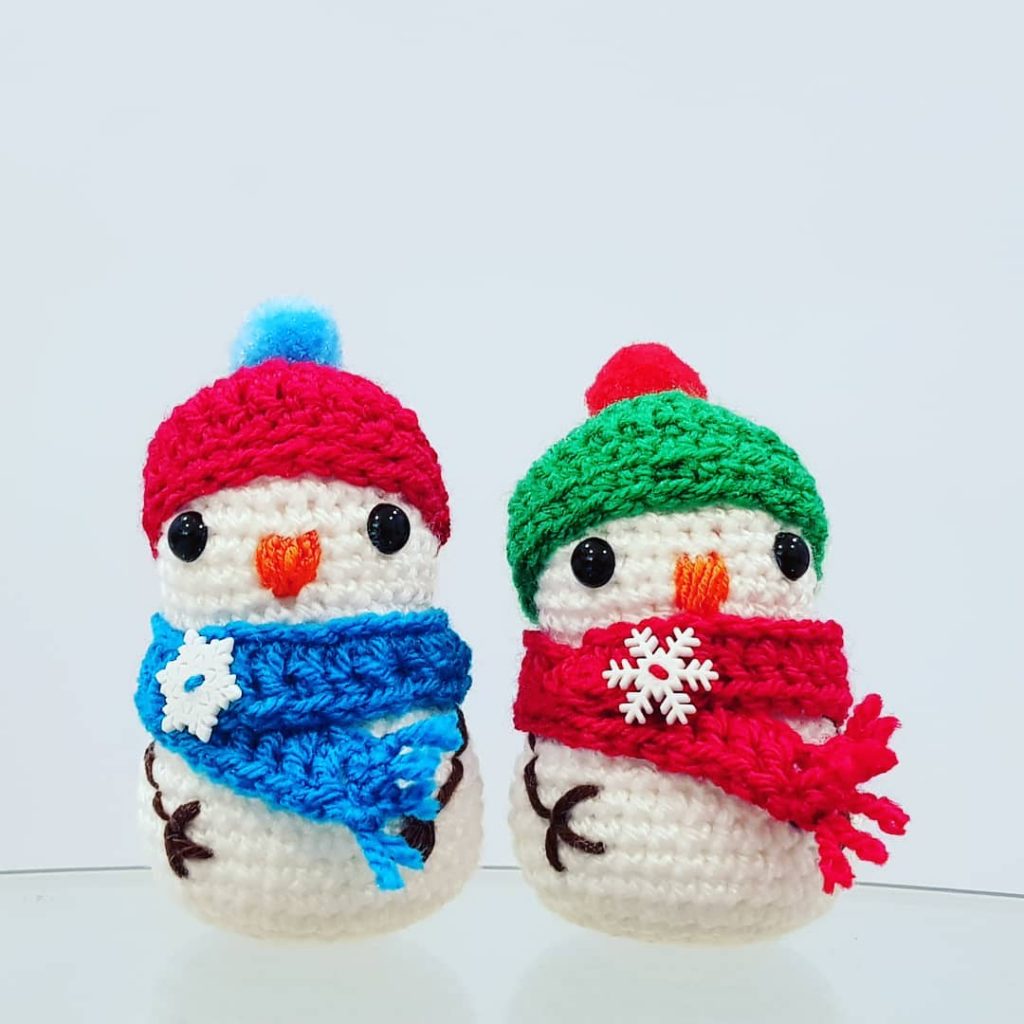 Little snowmen! These are designed by Sweet Softies. Again, only made a few of these in a couple of different colours. They're really cute and quick/easy to make up, and also gave me an opportunity to use some of my little snowflake buttons!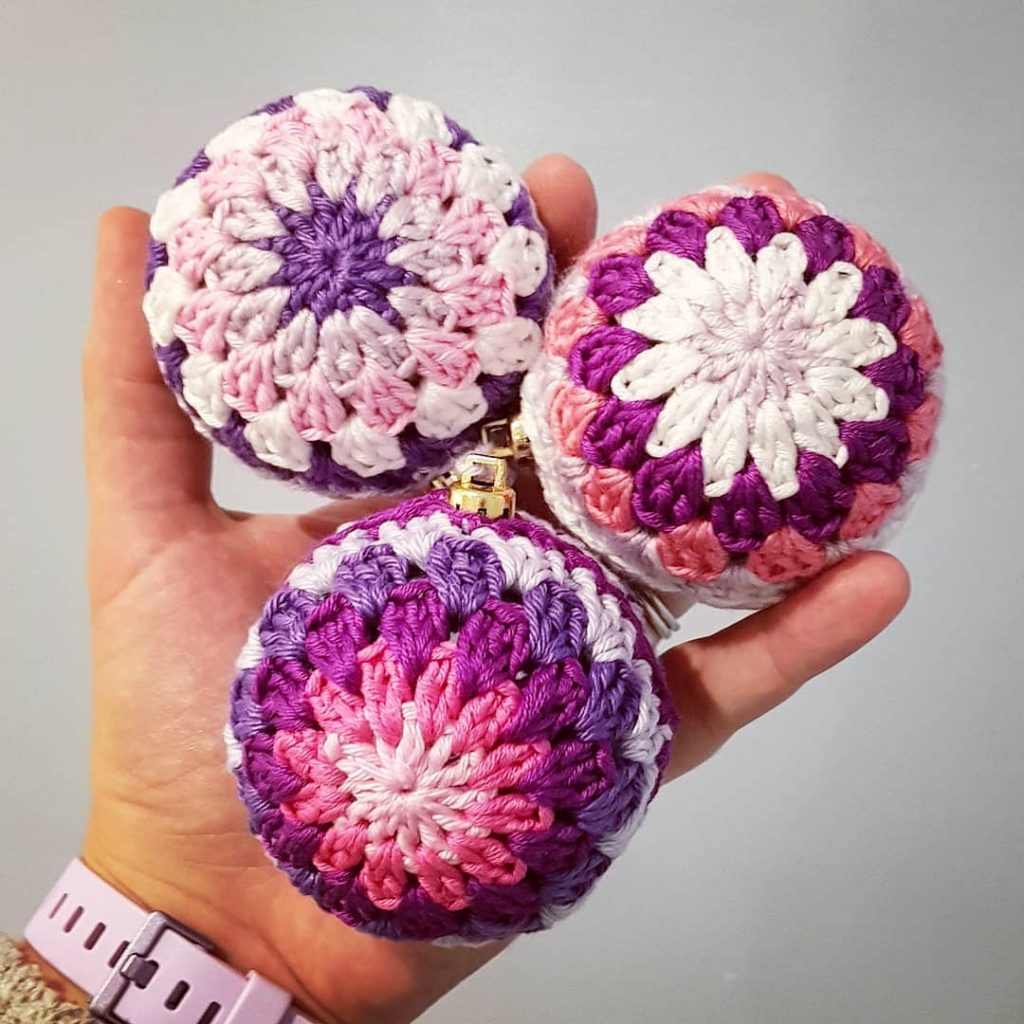 Baubles! Everyone loves baubles, right? These ones came from a free pattern by Annie Design Crochet, and are so simple to make. Opportunities for colour combinations are endless as well, which makes them fun to make as well. I did these three as a set and then went wild with different colours and did all sorts. Then I ran out of baubles (boo!). But today I bought some more, so can hopefully squeeze a few more in before my fayre on the 30th!
Little patchwork teddies came quite early on my hitlist, at the end of August. I had seen the pattern (by VendulkaM) quite a while before and had just been waiting for a time to use it. I really love the little blue teddy with his red scarf, but the warmer colours work well too. There is another one in red, white and green. I think these would make fab little stocking fillers!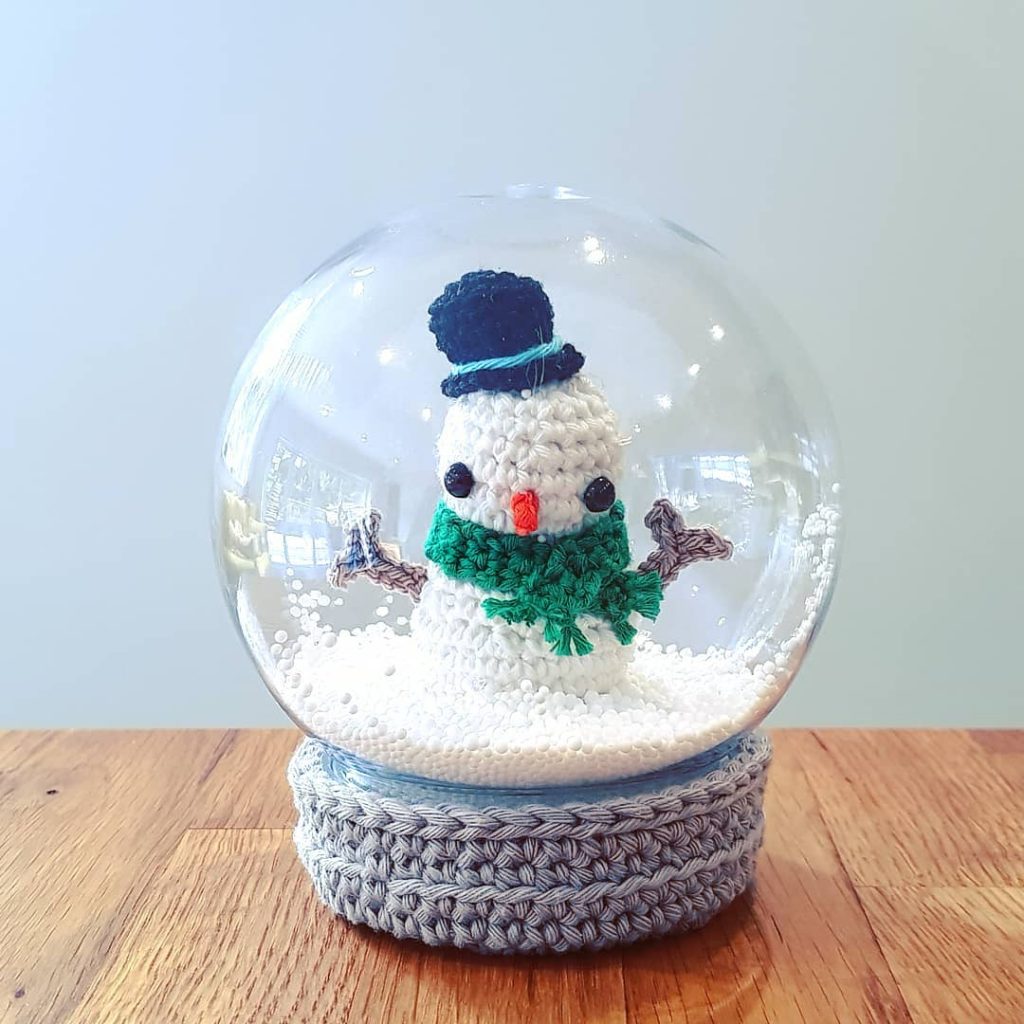 My most recent finished object are little snowglobes. This insane pattern is by Chi Chi's Whimsical Crochet – I am completely obsessed with it! I've already made 3 and am hoping to make a trip back to Hobbycraft at the weekend to get a few more snowglobes. I did buy some hanging globes the other day too, which are slightly smaller, so I'm hoping to make a little tree scene in those, which we shall see! I think these have worked out so well though!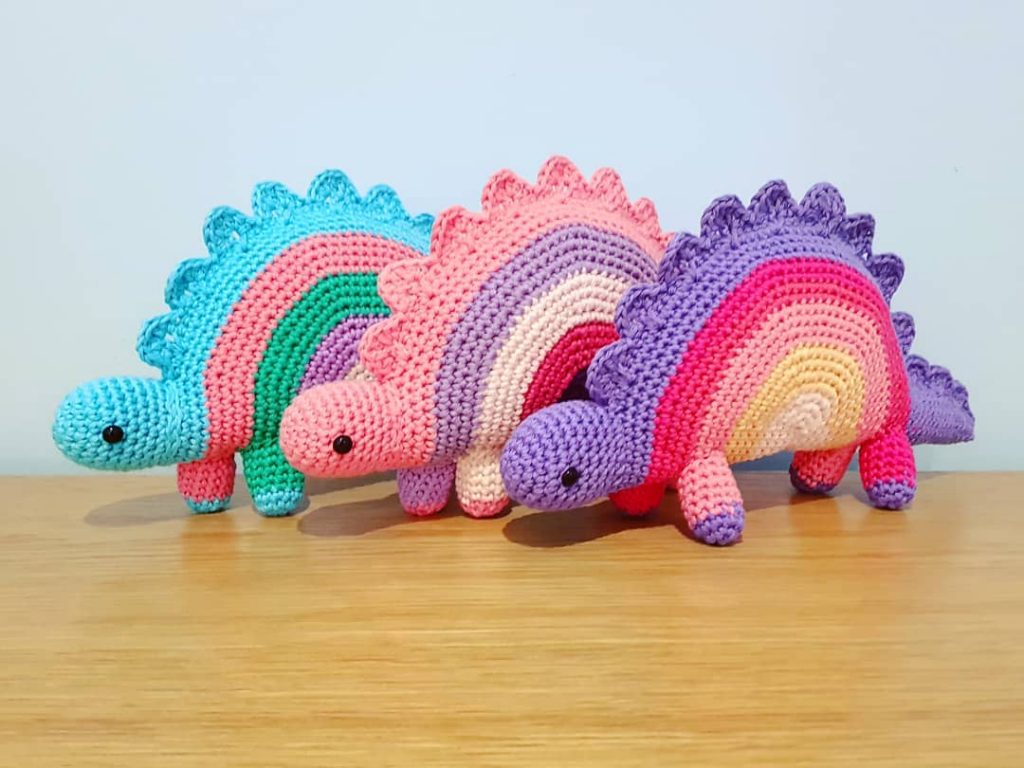 Other makes include 3 more steggies using the pattern by Irene Strange. These were ordered by a friend (I still have a Yoshi to make to go with them) and were great fun to make. I love the pattern anyway, but being given some colour schemes to work around was fun; whereas before I just did whatever I wanted. These guys are "mermaid" coloured (left) and the other two I was asked to do pinks and purples. I can't decide which one is my favourite, but I do lean towards the sunset purple one on the right.
So, that's where I've been! Along the way I have had some Folksy sales (please go and take a look at my shop, either by clicking here or on the SHOP link at the top of the page!), which has made me really happy. I'm really enjoying being a part of the community over there as well, which is fab.
I'd love to know what you've all been up to! Either leave me a comment here or come down to Facebook or Instagram and say hi x