How soon…is too soon…?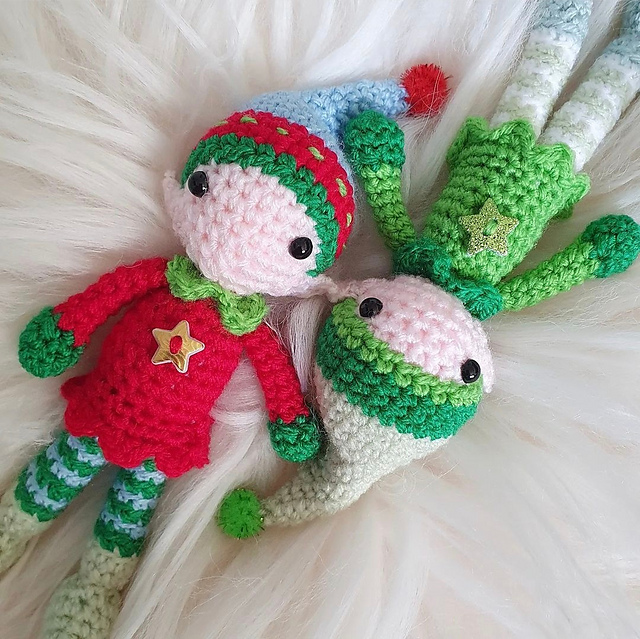 It's really tricky when it comes to Christmas when you make handmade items. People seem to forget that they take time to make, and when you start talking about that in the middle of Summer, people think you're mad for already talking about Christmas! But it needs to be discussed!
I started making elves a little while ago, just as inbetween projects. I find it really hard to sit and make one thing over and over and not get bored, so for me Christmas starts around June, just to give me enough time to make enough stock for when it's actually needed. Especially now that I'm a Mum, the only real time I get to crochet is in the evenings, and I'm not always in the mood now! I miss those weekends where I could spend an entire day crocheting non stop! But I also love my daughter to pieces and wouldn't change a thing.
So far this year, I have focused on making elves. It's an adorable pattern by Moji Moji Design and is so fun to make. I love how each elf has it's own personality, and the colour combinations are endless! I took a break from elves last year and really missed them, so I'm glad to be bringing them back to my Folksy shop this year – they were my best seller in 2020! I hope it's the same this year and I don't end up with loads of them to keep!
As for other stock – I have no idea. I'm not doing an "in person" event this year. Last year was really great fun in Cerne Abbas, but I feel I really missed out on my online sales, due to listing everything so late in the season (where I'd been holding back stock until after my Christmas fayre). So this year, you will only find me online. I'm still working out what other items I'd like to make though and am open to suggestions!
On a non Christmas related matter – I have been busy making cacti to do a shop restock later this week. I just need to photograph them and then I can get them listed…it's been a long time coming! I've done a few different shapes, which I'm liking, so hopefully you guys enjoy them too.
Over and out for now! I'm off to start another elf!