Yesterday I had the best day. It was full of friends, crafts, fun and most importantly – biscuits (does not everyone choose biscuits before friends? Just me then!)
I hosted my first Crafternoon in aid of MIND and invited my favourite people along for a day of crafting and chilling out together. After a lot of trying to find a date that suited us all (sadly Roxy couldn't come for all of it) we finally settled on 27th July. I bought some crafty bits for us to use if anyone didn't have a chosen craft to bring, and everyone just relaxed in my kitchen!

In addition to everyone bringing their own (crochet for me, sewing for Sarah and Fiona, cross stitch for Kirsty, and drawing for Kelly) I also booked a biscuit decorating session with the incredible Biscuits By Sarah B. I met Sarah at an event we both sold at in June – we were placed next to each other so got to chat a bit on the day, and after seeing her awesome biscuits I decided she would be perfect for my Crafternoon. She not only provides all of the hand designed biscuits and decorating materials, but also comes to your home (or wherever you are hosting) and teaches you there! I'm so thrilled with how everything turned out!
Part of the package is that you get to choose a theme for your biscuit collection, which had me stumped. I wanted to do something a bit different that represent all of us as friends and I think the final biscuits do that perfectly. Everyone knew which biscuits were theirs before we started, without being told.
Sarah then does an amazing step by step tutorial for you all – you get a practice biscuit and then get to work on each design individually. I was a bit worried about my dragonfly (above) after starting on the wings, but it then turned out so well once I added some finishing touches to it, and it's actually now my favourite biscuit of my collection!
Everyone had a really great time and got to be super creative along the way as well. Check out our finished works of art!
I really love how everyone's biscuits came out differently, even though we started with the same blank canvas. A massive credit goes out to Sarah for designing them for us – they're amazing and everyone was saying how much they enjoyed themselves.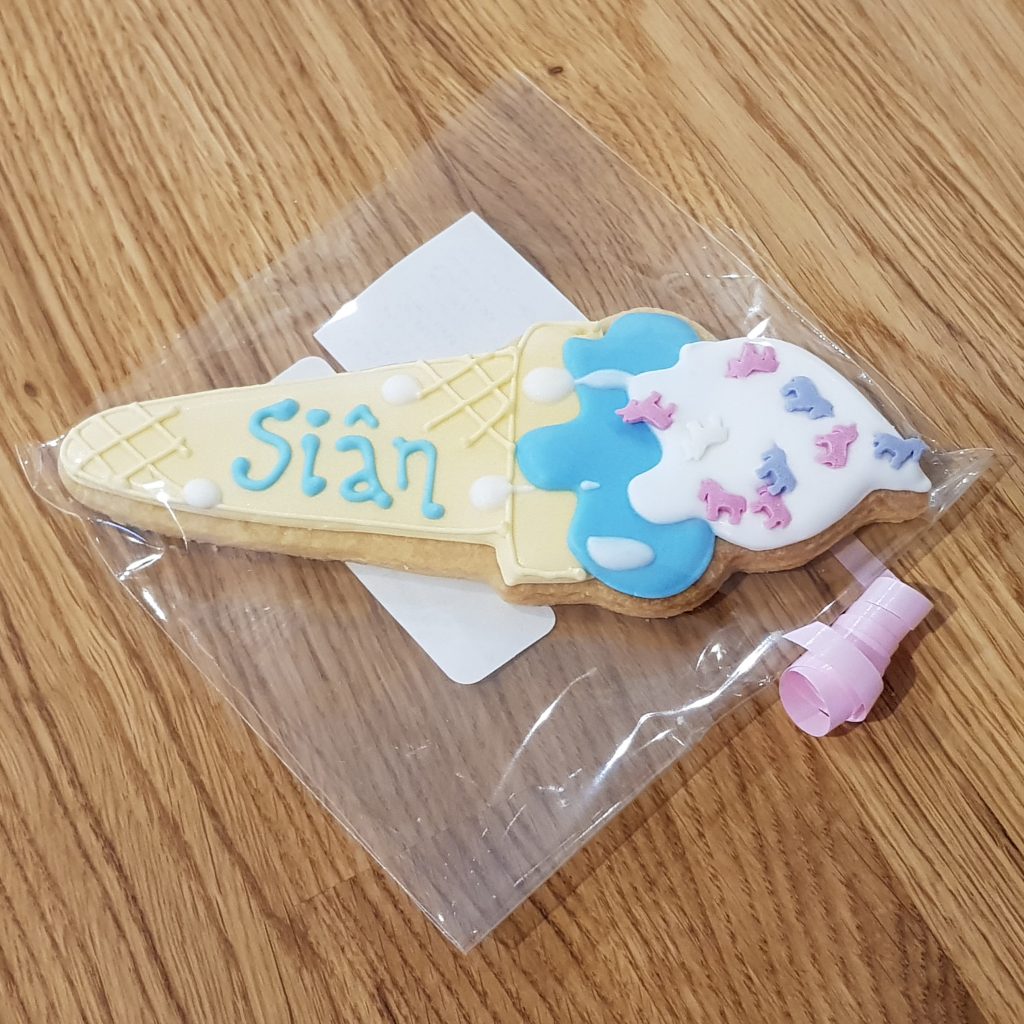 Wish I could take credit for this one, but it's one of the stunning party favours that Sarah also made for us all. They are beautiful!
Anyway, please go and check out Biscuits by Sarah B on Facebook and Instagram. She's amazing and I will definitely be booking again!
We managed to raise some money for MIND along the way too, which means a lot to me. I have struggled with my mental health over the years and continue to do so, but I solider on! MIND does an amazing job and deserves all the support they can get. That's it for this years Crafternoon, but watch this space for next year!