First Resolution – blog more in 2020! Although I do kinda promise myself this every single year, I really need to pull my finger out and actually do it!
Did you all have a lovely Christmas? We had our usual routine of spending Christmas Day as just the two of us and then saw our families on Boxing Day, which is always lovely and festive. We had a couple of changes to this year – I firstly told myself earlier in the year that I wanted to buy more handmade items as gifts this year, and I tried really hard to stick to this. All of the handmade or small business items I bought were really well received, and I have found some fab shops along the way too! Those I found items in were: Jenny Newall Stained Glass (stunning glass birds and other decorations – my husband actually gifted me some of these too!), Claire Gent Design (lovely jewellery), Tanith Rouse Jewellery (again, some really unique jewellery items), Silver Pasta (ornaments and decorations all inspired by nature), Lincolnshire Fenn (needlefelting kits), Edna & Peg (yarn and shaving bowls), One Little Company (shaving soaps and other bathroom goods). Those are the main ones that I can remember!
The second change was that this year I cooked turkey for lunch. We usually have chicken because it is only the two of us, but this year a good friend of mine that I met through Fibreshare launched her own turkey business. I was lucky enough to see our turkey (although I don't know specifically which one he was) grow from a couple of days old, right up until he arrived on Christmas Eve. It's been a really wonderful experience from start to finish, and the turkey itself was delicious!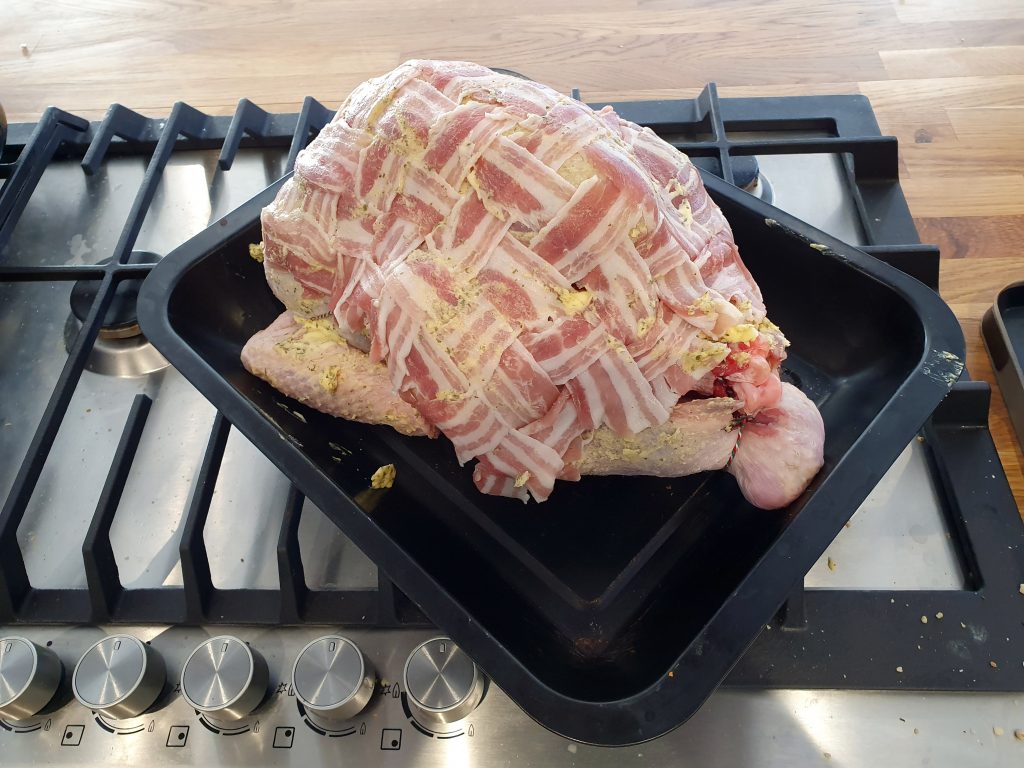 I am pretty sure that they will be selling again next year, so please go and have a look at Marchfont Turkeys – I guarantee you will not be disappointed! We had empty plates and delicious leftovers to enjoy as well.
So, now comes the time to think about resolutions. I like to do a round up and try and come up with some achievable and interesting targets where I can. Of course I would like to do the usual of blog more, read more (I've set my Goodreads target at 12 books again this year, after failing miserably in 2019 with only 6 books read…I am blaming the crochet!), and cook more. I would also like to get out and experience more things – hubby and I have already said we want to have day trips and that kind of thing this year. We have done a lot of work on the house in the last couple of years, which has obviously come at a price, so this year we both want to get out and about and do more together. I would like to start letter writing again – after our trip to Berlin just before Christmas where I met my penfriend for the first time in 17 years, it has really made me want to start communicating via letter with her and rekindle that side of our friendship. Facebook is useful for so many things, as is being able to message her whenever I like on Whatsapp for free (we are so lucky in this modern day) but our friendship was originally forged through good old fashioned snail mail and I think there is something really special about sitting and taking the time to write a letter. Speaking of which, I haven't written about Berlin on here so will try and fill you all in on that when I can!
All in all I want to remain happy (my mood and anxiety are really good at the moment) and continue on the path I'm currently on. Thank you for all of the love and support in 2019 and the years before. Thank you for supporting my Folksy shop and really encouraging me to believe in myself a bit more. And thanks for the fun and laughs – I've made some fab friends in the last year and I'm grateful to each and every one of you.