What's that? Another post within a week of the last one?! How could this be?!
Hubby has taken Eleanor out for a walk so I have found the time to speed type this to you all!
I am in love with my current WIP. I can't express how much I love how it is coming together. I decided to make a Modern Bobble Rainbow Blanket (pattern by Melu Crochet) but have opted for a grey background on mine. It makes the colours pop in an amazing way; I just have to share it with you all!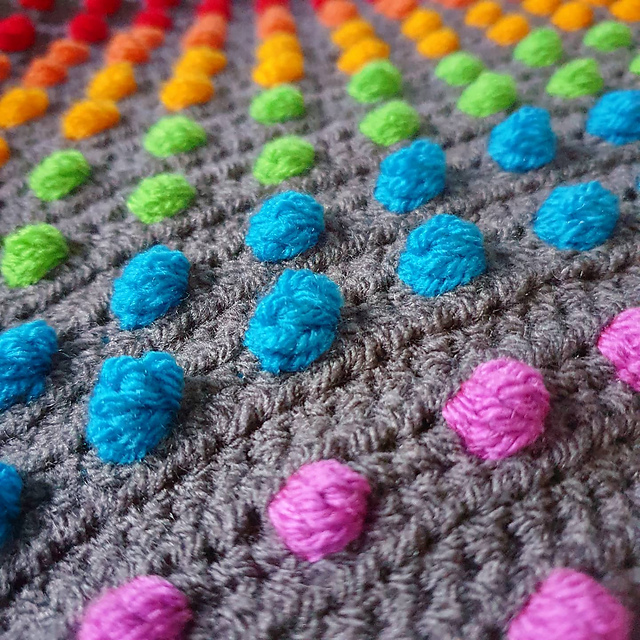 What is not to love?
Now, I won't lie – I only did a grey background because the person it is being made for has a grey nursery, and doesn't know the gender of their baby. I didn't want to make something completely grey though, so thought this would be a grey project to use to add some colour into it. And wow it pops!
I'm using Stylecraft Special DK in Graphite for the main body of my blanket, coupled with the bobbles in Lipstick, Spice, Sunshine, Grass Green, a blue from my stash, and Magenta. I have followed the recommended colours except for the blue, because I knew I had a colour I wanted to use in my stash already (I just wish I knew what it was!).
The texture of this is amazing. It is going to be so nice for baby to touch and feel, and like I said, the colours really jump out at you! I already want to start another in different colours (pastels!) and I haven't even finished this one yet!
Have any of you tried this pattern? If so, I would love to see some pictures of the colours that you opted for. What yarns did you use?